Hula and Ely Love Dog Day Care
Hula comes to our dog kennel three days a week for dog day care and on occasion spends the night. Every day that Hula comes to Robin's Nest Pet Care she runs down the path with such excitement she almost barrels right through the gate. Her friends Buddy, Cliff and Mikey were already here. The next furry friend to arrive at our dog kennel was Calvin. Calvin is a black lab who like most typical labs always has to have a ball in his mouth. He hadn't been here for a while so he was super excited to see all his friends.
So Many Friends, So Much Fun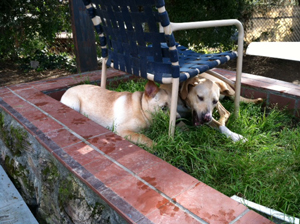 Ely arrived shortly after Calvin. Ely was a little nervous at first when he started coming to dog day care about six months ago but now he can't get out of his dad's car fast enough to see what friends of his are here to play. His favorite, well I should say his two favorites are Buddy and Panko. More dogs kept coming and the excitement lead explodes when Ely saw Panko running down to the gate. I thought their tails were going to fly off they were wagging so hard. Minnie, Augie, and Hazel were the last ones to arrive so now our pack was complete for the day…14 to be exact at dog day care in Santa Cruz.
Every Dog Gets an Outing
Throughout the day Kelli and I would take 2 dogs out at a time either for a dog walk or a beach play. Just taking 2 dogs out at time can be a bit challenging because everybody thinks it's their turn to go even if they just came back for an outing.
As the afternoon arrives there is calmness that has taken over here. ..nap time!!!
The day winds down and slowly the daycare dogs leave for the day.